River Stability & Predictability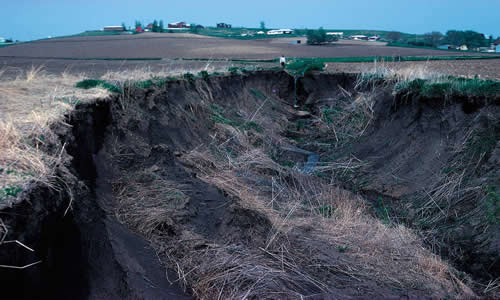 Erosion, transport, and Deposition can occur in relatively stable conditions and are natural processes in the dynamic stability of rivers. When these processes become extreme, transport becomes Degradation, and Deposition becomes Aggradation. Rivers change in their pattern, profile, and dimension, and flood prediction can be drastically hindered due to widely varying flow regimes caused by the instability or by faulty data from an erroneous stage-discharge relationship.
Erosion of Streams, such as the headwater channel in this figure, can have natural, human, or a combined set of triggers. Human modifications to the landscape strongly influence triggers to instability, accelerating the Erosion potential and sediment transport regimes of channels, altering their flow by shifts in Aggradation and Degradation processes.
Image Courtesy of NRCS IA