Classifying Rivers and Behavior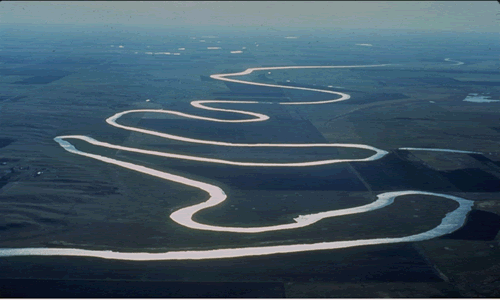 This FGM Module will initially focus on classification schemes used to assess rivers. By using a classification scheme that considers river formation processes, you will be able to make inferences about a river's behavior and flow regime from its appearance and measurements.
It is important to note that inferences can be wrong if initial theory, data, and presumptions are wrong. Like all scientific inferences, the testing of such connections helps to refine and improve the next round of predictive process. Hence, your ability to make predictions should increase with increased FGM training and application. Further, the training should enable you to extend site-specific knowledge of flood response to other rivers based on similarity of watershed and Reach characteristics.
In this image example, the highly sinuous river with a very extensive Floodplain may experience severe flooding rather than quickly route water downstream.
Image Courtesy of FISRWG