Flood Impacts of River Disturbance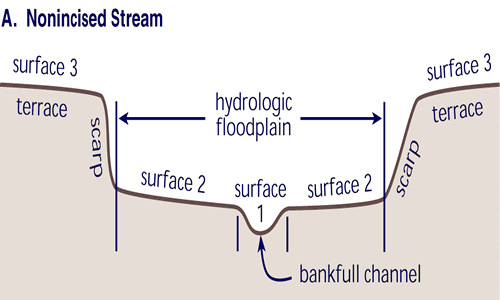 River pattern, profile, and dimension affect flood water conveyance, directly linking to flood water celerity, lag times, and flood extent. As river's or their watershed's experience a disturbance that increases hydraulic energy, the river may compensate by down cutting.
The down cutting and river incision process is illustrated in the adjoining image, which updates between three (A, B, and C) cross-sections. Incised rivers tend to keep low frequency floodwaters out of the Floodplain. Classification of river Reaches based on degree of incision will need updating, as river's adjust to reduce this situation. Such a classification, however, may relate to estimates of flood depth and hazard.
Images Courtesy of FISRWG