Applying FGM to River Conveyance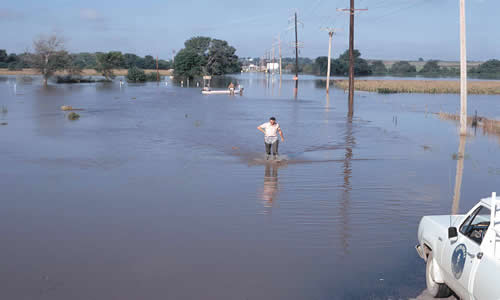 Flood waters are often successfully anticipated with current NWS RFC applications. The accuracy of the prediction is continually improving as data collection sources and model formulations advance. The skill of the prediction typically improves with forecaster familiarity with the river and Floodplain system, the storm patterns, and the model outputs, biases and limitations.
Forecasting skill is related to knowledge of the river and Floodplain system, and FGM analysis is fundamentally linked to a detailed measurement and description of that system. The core components of FGM river and Floodplain analysis are assessments of pattern (e.g., Meanders, cut-offs), profile (e.g., bed and Valley slopes), and dimension (e.g. cross-section incision and width). Each of these features impacts the occurrence and conveyance of flood water. Learning how to systematically classify a river system will enable you to distill your system's pattern, profile, and dimension into a hierarchal framework that can then be inter-compared with observed river behavior.
In this image, the Floodplain has characteristics of a low gradient Valley, with slow moving waters.
Image Courtesy of NRCS IA