Description of Quizes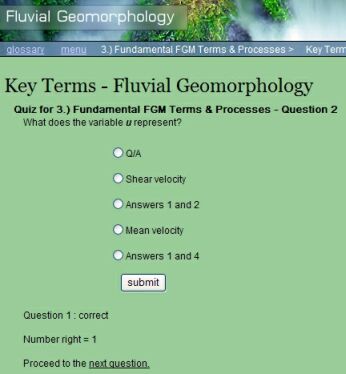 Quizes are used in the FGM Module to assess knowledge. There are a handful of points that each section of this FGM Module will teach, and embedded in the quiz at the end of each section the quiz will provide you with feedback as to how well you are retaining the information. The FGM Module does not record your performance, but does inform you on what questions were right and wrong. Questions are either true/false or multiple choice, and because of this format are limited in scope. In this example, you would click the radio button for FGM is the study of terrain augmentation by moving water as the most appropriate response, even though it is not a complete definition.
Quizes are completed in a separate browser window, and once you have progressed through the quiz, and submitted all responses, you must close that window and return to the main FGM Module window.