Introduction to Fluvial Geomorphology (FGM)
Welcome to the FGM Module ...brought to you by: COMET, NWS NERFC, and SUNY-ESF.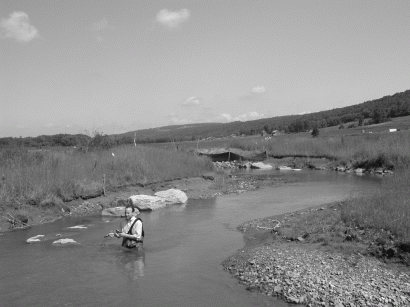 This FGM Module was designed by Dr. Ted Endreny of SUNY ESF to train users in river forms and processes. This FGM training will both relate to, and extend beyond, flood forecasting.
Section 1 of this FGM Module provides a brief orientation to navigation and exercise components and tools. Completion of Section 1 will provide you with the capacity to make important FGM related measurements.
Several texts and manuscripts have guided the creation of this FGM Module, including the following:
Applied River Morphology, D. Rosgen
Fluvial Forms and Processes, D. Knighton
Fluvial Processes in Geomorphology, L.B. Leopold, M.G. Wolman, and J.P. Miller.
Hydrology for Engineers, R.K. Linsley, M.A. Kohler, J.L.H. Paulhus
River Mechanics, P.Y. Julien
Water, Rivers, and Creeks. L.B. Leopold
Please use the cursor to proceed to page 2, hyper-linked at the top and bottom of the page as 'Next' or '2'.